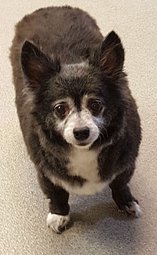 Here at Barking Kids I provide a home-based environment that will be less stressful for your dog. My goal is to groom your pet for their comfort and joy!
Being safe and sanitary is important to me. Tools will be sanitized between each dog. I will treat your pet as if they were my own; always keeping safety in mind for all involved.
As I go through the grooming process, I will be checking the condition of your dog's skin, coat, eyes, ears and (if dog allows) teeth. I will alert you to any issues I see so that you can consult with your vet.
Pricing for Basic Bath and Full Groom services is determined by dog size and breed. Extra charges may occur due to coat condition or added requested EXTRAS. Example: Matted coats take more time and effort so an additional charge maybe needed.
Consultation-to discuss your options and preferences in terms of clipping style and other issues related to your pet.
Your dog's skin and coat are carefully evaluated to choose the right shampoo and products to make your dog look and feel their best!
​Bath--Special Facial Wash used on face. Shampoo and Conditioner.
No-heat blow dry
Ear cleaning (Plucking done by request)
Nail Trim
Teeth wipe and/or breath spray
Pad Shave
Prepare your puppy for the grooming experience, so they can be less stressed by the grooming process.. Recommended for pups under 6 months of age or those that have not had positive experiences with grooming.
Three 10 minute visits approximately 2 weeks apart.
First visit: Puppy will get use to new smells and have some playtime to help them feel more comfortable with groomer. Treats and love given.
Second visit: Puppy continues getting use to environment and is given some time sitting in the tub and on the grooming table.
Third visit : Puppy is taken through grooming stations and various elements are added. Tub-run water (no bath at this time). Blow dryer-air turned on. Grooming table-raised and lowered. Brush out given, if ready.
NOTE: Extra visits can be arranged if your pet is still uncomfortable with the process.
EXTRAS
Some days you don't need a whole groom or maybe you need some extra not included in the Basic Bath or Full Groom.
Bang trim and Eye cleaning $5 to $15
Head and face trim $12 to $20
Sanitary trim $5 to $10
Odor neutralizing treatment $10 plus Basic bath cost
Hand Stripping call for pricing
Ear cleaning (Plucking done by request) $5 to $10
Anal gland expression $5
Paw trim includes nail trim and pad shave $15 to $20
Pad Shave $5
Nail trim $10
Pet pick-up call for estimate (Max. 12 miles each way)
DON'T SEE WHAT YOU WANT...Let's talk about it and see what I can do.
All items in BASIC BATH
Style cut (this includes sanitary trim)
Cologne spray-if requested
Dry Brush and Blow out
Bath-Special Deshed Shampoo
No-heat blow dry
Deshedding brush out
Leave on conditioner
Nails trimmed and Pad Shave
Ears cleaned (Plucking done by request)
Teeth wiped and/or breath spray